HLC SERIES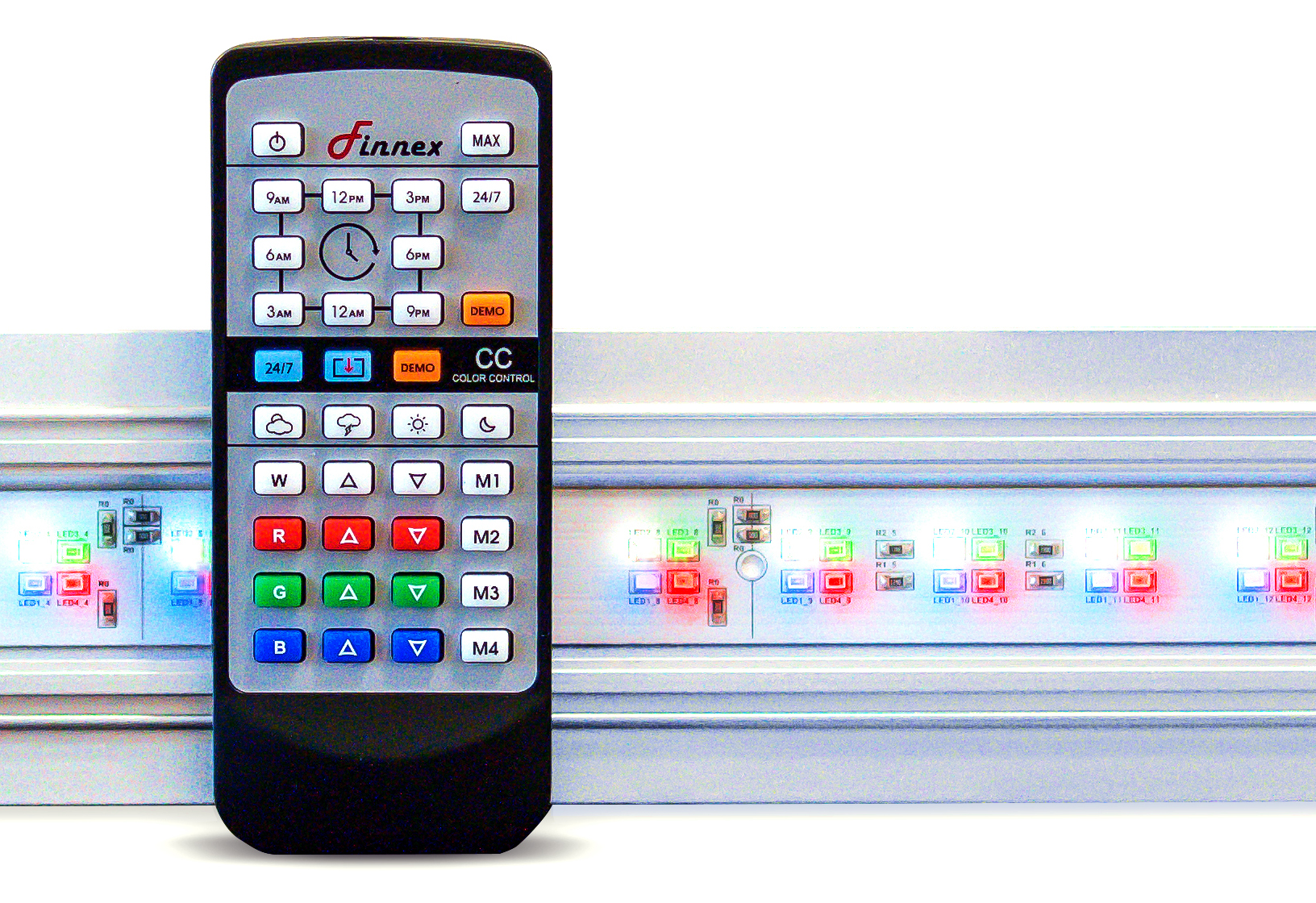 HLC Series Overview
24/7 Mode: Fully Customizable LED Sunrise & Sunset
Plant specific LED bulb configuration
Controllable LED Fixture with 4 bulbs - Green, Red, Blue, daylight LEDs
Remote Included +Built in sensor
The Finnex HLC series is the slimmest series yet solidly built in a eye-catching aluminum hood. Featuring a unique four-bulb cluster of 8, 000K Daylight, Red, Blue, and green LEDs - the HLC series supports all types of plant growth along with making the fish within one's aquarium Stand out. Using the 24/7 color control, users are allowed to save various color combinations in multiple intensities throughout the 24/7 program.
High-Performance LEDs: The 24/7 fixtures use the latest LED technology from leading manufacturers. The 120°optic angle provides even color blending and coverage. High Color Rendering Index (CRI) LEDs create optimum PAR for freshwater and reef aquariums.
Razor Thin Hood: The sleek, single-cast aluminum hood is attractive and resists corrosion. The high surface area efficiently dissipates heat, keeping your tank and led circuitry cool.
Remote Control: The 24/7 fixtures come with an infrared remote control for complete command of programing, memory slots, and weather modes. You don't have to leave your chair to make an adjustment. AAA batteries are included.
Certified & Graded Power Supply: Finnex 24/7 lighting fixtures use Intertek certified power supplies. This means the electrical handling component meets all regulations and performance requirements. Low-quality power supplies can cause Electrical Over Stress (EOS). EOS greatly reduces the lifespan of LEDs within a fixture. Finnex now manufactures and utilizes only certified power supplies in all our fixtures.
Conformal Coatings: Unlike budget LED fixtures, Finnex 24/7 fixtures use two conformal coatings. Conformal coatings are an industry standard that protects the LEDS and circuitry from moisture and corrosion. An inexpensive LED fixture may seem like a good deal, but it's likely to fail due to manufacturing short-cuts.