ALC SERIES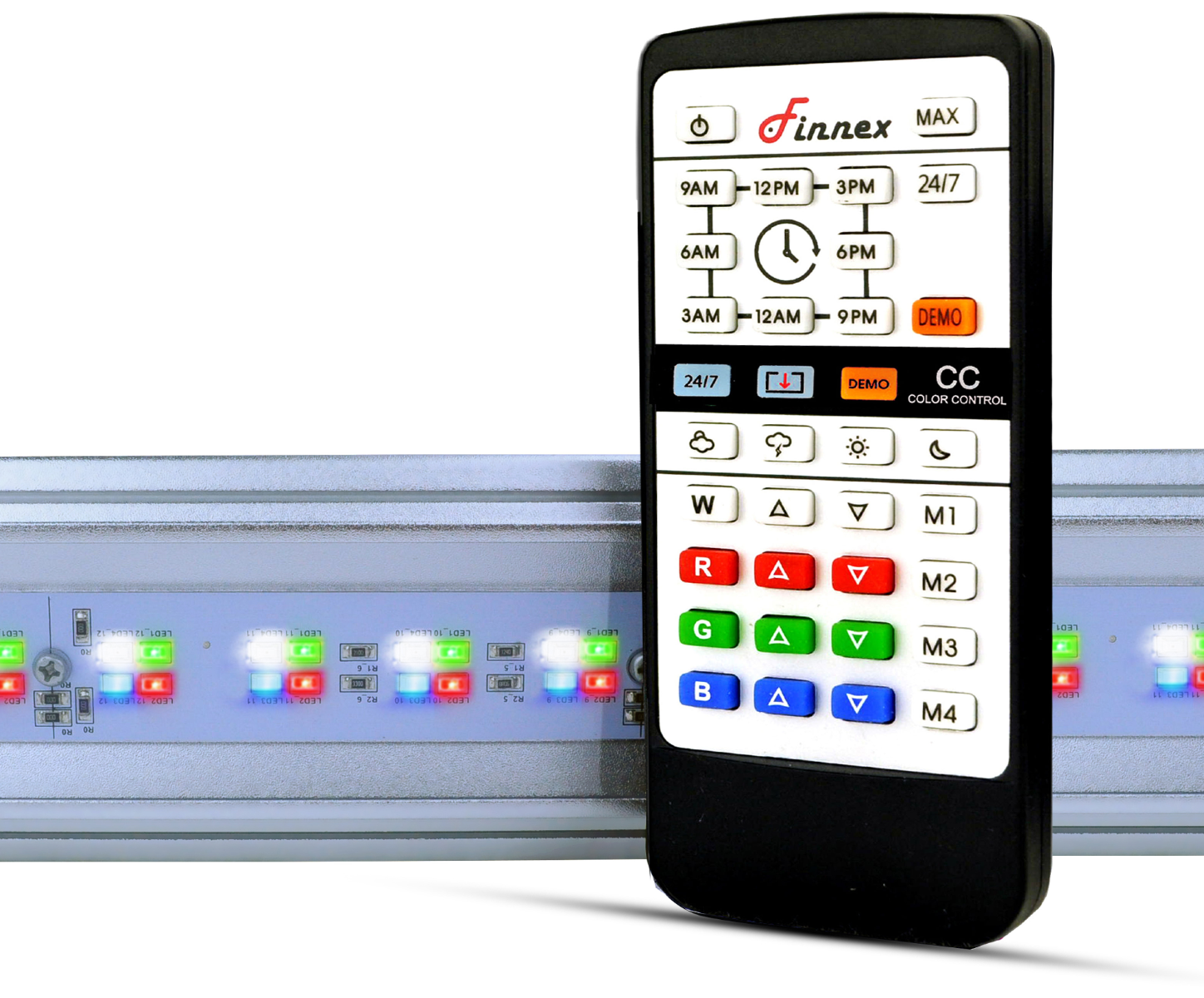 ALC Series Overview
24/7 Mode: Fully Customizable LED Sunrise & Sunset
Plant Specific LED bulb configuration
True 660nm deep red LEDs for superior red growth
Remote Included +Built in sensor
The Finnex Planted+ 24/7 ALC LED Fixture offers users what they've been calling for - color and intensity control, high intensity, and true 660nm plant-loving LEDs. Using the Planted+ 24/7 ALC series allows users to save various color combinations in multiple intensities throughout the 24/7 program. Set it once, and watch the fixture go through your custom daily sunrise to sunset - All hands-free. Venturing out from the fixture's 24/7 mode: also featured are four separate memory slots allowing users to save and access their custom colors & intensities on command. Accessible via the IR-controlled remote are four different weather modes: Cloudy, Thunderstorm, Sunset, & Starry Moon Night.
Equipped with 2 rows of intensive daylight and true 660Nm RED LEDs, centered are a blend of dual red, green, and blue LEDs. The Planted+ 24/7 ALC is equipped with a dynamic remote. The remote allows users to enter in & out of 24/7 mode, along with customizing various color combinations and commencing the 4 featured weather modes with the click of a button. To easily determine one's position while dialing in one's custom settings, the Planted+ 24/7 ALC also features a built-in sensor that has 2 different color indicator LEDs to clear any confusion.
High-Performance LEDs: The 24/7 fixtures use the latest LED technology from leading manufacturers. The 120°optic angle provides even color blending and coverage. High Color Rendering Index (CRI) LEDs create optimum PAR for freshwater and reef aquariums.
Remote Control: The 24/7 fixtures come with an infrared remote control for complete command of programing, memory slots, and weather modes. You don't have to leave your chair to make an adjustment. AAA batteries are included.
Certified & Graded Power Supply: Finnex 24/7 lighting fixtures use Intertek certified power supplies. This means the electrical handling component meets all regulations and performance requirements. Low-quality power supplies can cause Electrical Over Stress (EOS). EOS greatly reduces the lifespan of LEDs within a fixture. Finnex now manufactures and utilizes only certified power supplies in all our fixtures.

DIMENSIONS
HIGH OUTPUT W

R

G

B

LED CLUSTERS
WATTS
ALC-12

12 Inches

8

WRGB

8.9

ALC-16

16 Inches

12

W

R

G

B

11.9

ALC-20

20 Inches

16 WRGB

16.8

ALC-24

24 Inches

20 WRGB

24.5

ALC-30

30 Inches

28 WRGB

29

ALC-36

36 Inches

32 WRGB

35.8

ALC-48

46.5-48 Inches

44 WRGB

46.2