PLANTED+ SERIES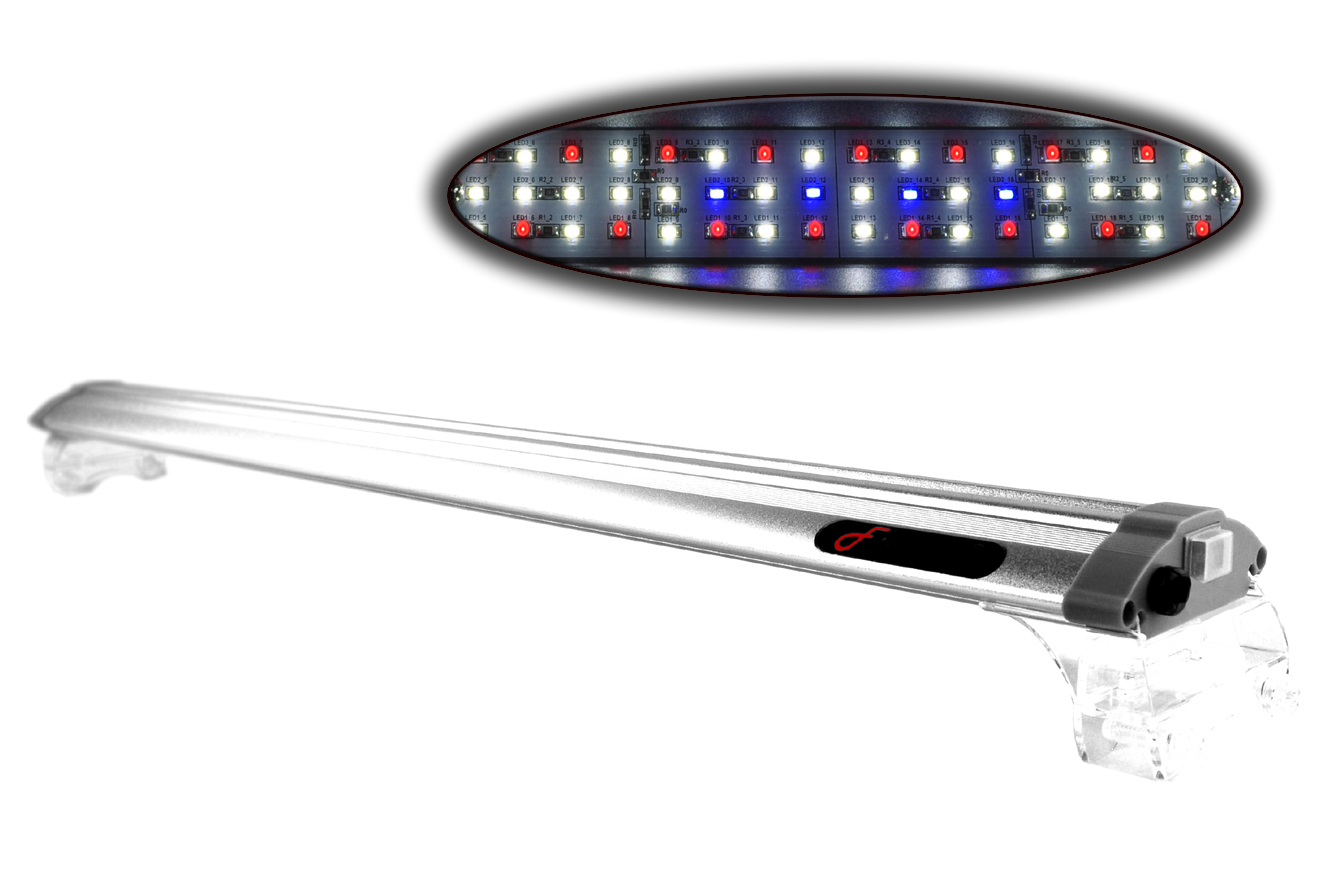 Planted+ (U-WM) Series Overview
HIGH Output Aquarium Planted LED
Plant specific growth LED bulb configuration
True 660nm deep red LEDs for optimal photosynthesis
This Contemporary Ultra Slim designed LED fixture features a series of LEDs to promote Marine Refugium & Freshwater growth. Unlike the Ray II which incorporates multiple High Output LEDS pinched together for high light output, the FugeRay features a more evenly spaced LED alignment ideal for refugium purposes as well as low-medium light needy aquariums. The original planted+ also features moonlights on a separate switch, which can be activated during the evening to give the aquarium a pleasant moonlight tone. All models feature a moisture-resistant PC Splash Guard to protect against water mishaps. Differentiating itself from the original Finnex Funerary LED, the Planted+ series offers true 660nm red LEDs. Unlike competing LED fixtures offering a cheaper and mass-produced labeled 'RED' LED, the Finnex Planted+ has incorporated TRUE 660nm RED LEDs- which studies have found to be one of the most efficient wavelengths for plant photosynthesis. The true 660nm red LEDs also offer a warmer tone throughout one's aquarium. The durable high output LED bulbs are built to last 40,000+ hours. With a LED spread of 120 degrees, this slim LED bar lights up the largest of aquariums.
High-Performance LEDs: The 120°optic angle provides even color blending and coverage. High Color Rendering Index (CRI) LEDs create optimum PAR for freshwater and reef aquariums.
Certified & Graded Power Supply: Finnex lighting fixtures use Intertek certified power supplies. This means the electrical handling component meets all regulations and performance requirements. Low-quality power supplies can cause Electrical Over Stress (EOS). EOS greatly reduces the lifespan of LEDs within a fixture. Finnex now manufactures and utilizes only certified power supplies in all our fixtures.
Conformal Coatings: Unlike budget LED fixtures, Finnex fixtures use two conformal coatings. Conformal coatings are an industry standard that protects the LEDS and circuitry from moisture and corrosion. An inexpensive LED fixture may seem like a good deal, but it's likely to fail due to manufacturing short-cuts.

| | | | | | |
| --- | --- | --- | --- | --- | --- |
| Model | Watts | 7,000k Daylight LEDs | True 660nm Red LEDs | Actinic Blue LEDs | Moonlights |
| U-12WM | 15W | 44 | 24 | 4 | ✔ |
| U-16WM | 19W | 60 | 32 | 4 | ✔ |
| U-20WM | 23W | 72 | 40 | 8 | ✔ |
| U-24WM | 26W | 88 | 48 | 8 | ✔ |
| U-30WM | 32W | 104 | 56 | 8 | ✔ |
| U-36WM | 40W | 132 | 72 | 12 | ✔ |
| U-48WM | 48W | 160 | 88 | 16 | ✔ |